Anthogenol®
Quality of life for all your life
Ageing is an inevitable part of life. And the older you become, the more you are likely to feel a decline in your overall vitality. One reason for this is the gradual degeneration of the veins and capillaries in your vascular system. This leads to wrinkles, loss of sight, sore muscles, swollen feet, and tired legs.
Healthy blood circulation;
Youthful appearance;
More energy and vitality.
At MASQUELIER's® we don't believe in eternal youth, but we do believe there are solid and specific steps you can take to preserve your vitality. Of course, there is no single answer, but when you take Anthogenol® you are taking one step towards a healthier and more active life as you age.
Crucial & Beneficial
One of the keys to healthy ageing is effective microcirculation. For your eyes, legs, skin and organs to function optimally, it is vital that your blood delivers the essential nutrients and protects your blood vessels against free radical damage. A well-functioning vascular system is as crucial as it is beneficial – and Anthogenol® supports just that.

Product
UNIQUE PRESERVATION OF VITALITY
Anthogenol is a blend of MASQUELIER's® Original OPCs and MASQUELIERs ® French Pine Bark Extract. Their unique qualities contribute to:

ONE Powerful antioxidant protection proven to promote effective microcirculation;
TWO Maintaining the integrity and function of the countless tiny capillaries;
THREE Flawless delivery of nutrients to all cells and organs.
Pack Facts
Anthogenol® is available in packs of 60 capsules. The recommended maintenance dose of MASQUELIER's® Anthogenol® is two capsules, taken once or twice a day according to need.

The best moment to take MASQUELIER's® Anthogenol® capsules is 30 minutes before a meal, or between meals, with a large glass of water or juice. Taking the capsules with a meal will not have an adverse effect on the efficacy of the product provided you don't take the capsules with milk, yogurt or other protein drinks or food.
For adult use only. Recommended daily intake must not be exceeded. When pregnant or breast-feeding, consult your qualified practitioner before use.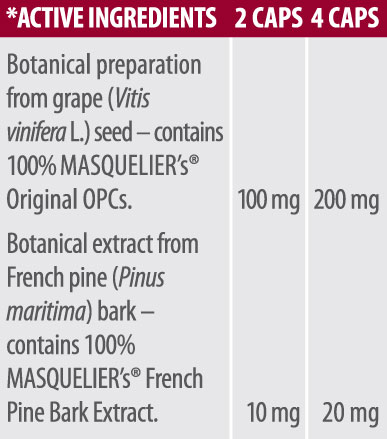 Other ingredients: bulking agent (microcrystalline cellulose, hydroxypropylmethyl cellulose (capsule)), anti-caking agent (magnesium stearate).
Professor Masquelier - A true health explorer
Professor Masquelier dedicated a lifetime of research to his unique discoveries and their beneficial effects on microcirculation.
ALL-OVER MICROCIRCULATION FOR ALL-OVER BENEFITS
By helping the microcirculation system stay strong and supple, MASQUELIER's® Anthogenol® helps oxygen and nutrients flow to organs that need them for healthy functioning:
Heart, organs and body health
Healthy microcirculation assists nutrient and oxygen delivery throughout the body, providing support for the heart and all vital organs.
Leg support
Supporting the microvascular system can provide relief for heavy and tired legs.
Eye Health
Eyes have the body's most intensive microvascular system, and good eyesight is strongly associated with a healthy microvascular function.
Youthful appearance
Healthy microcirculation leads to well-nourished skin. This helps to maintain skin quality and tone for a more youthful appearance.
Energy and vitality
Healthy microcirculation aids in optimum cellular nutrition. This provides vitality and spark, and assists in body recovery after exercise.